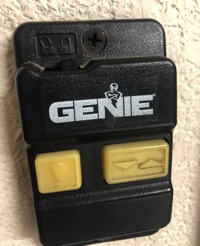 I was robbed. My vehicle, purse and keys were stolen from my car that was in my garage and the garage was closed. This is not for pity or sorry to hear that, I'm sharing this with you to let you know what processes and procedures you can put into place to help you should this happen to you.
The Police shared with me that robbers have a "universal" remote that they use to open garage doors. There are only so many different codes I was told and the frequency happened to be one that opened mine. There were 4 vehicles stolen from my area in the last week the police shared with me.
1- Make a copy of your Drivers license. If you live in the state of Arizona and your drivers license is stolen you can obtain a copy by going to www.Servicearizona.com and pay a $ 12.00 fee but you need to know your license number. I am not aware of how it's done in other states.
2- Keep one of your credit cards or debit cards separate from your purse. (if you have a safe that's a good place to put it) If your vehicle gets stolen and your insurance offers a rental vehicle, you must have a debit or credit card in your own name. It can not be in another persons' name even if all your credit and debit cards were stolen. I cancelled all my cards immediately and had no way to get a rental car.
3- Have a relationship with your local banker, mine is with Mike Hansen of Wells Fargo Bank. He was able to get me a temporary debit/credit card in my name so I was able rent a vehicle.
4- Check your Garage Door Opener (see photo). Above the open/close there is a lock/unlock mechanism which I wasn't aware that it existed. Once everyone is in in the night or day, lock it. This will prevent a universal remote or any remote to open your garage.
5- I had a false sense of security in my own garage and had my keys left in my vehicle in my locked garage and my purse was in my trunk (again I thought safe).
6- Lock the door from your house to your garage. So many of us don't.
7- Let your neighbors know that you trust when you go out of town. We have a running joke in the neighborhood, if you see a moving van, call the police because I'm not moving. It has saved two burglaries in my neighborhood.
8- Have all your credit cards and debit cards, your insurance cards and everything you keep in your purse on a spread sheet and the numbers of your cards and numbers located and saved somewhere. I use Dropbox so if I'm traveling or away from my laptop I have access to my information.
9- If you are broken into, call 911 first. If it's your vehicle, be sure and have your VIN number which is located on your insurance information. Know what make and model of your vehicle is too. If you have expensive camera or other equipment. Be sure and have the numbers of those and photos are helpful for the insurance companies. (receipts too)
10- If your keys are stolen you most likely will need to have your mail stopped and the post office to replace your key. I live in an area that our mailboxes are in clusters with locks. When you go to the post office be sure and bring a picture ID along with a copy of your police report or police report number and officer's name and badge number so they don't charge you $ 40.00 to replace the lock. Be sure and insist they send the request in immediately. My local post office didn't do their job and when I went to pick up the mail I was told it wasn't faxed until the following day so it will be an additional 3 days before I can get my mail and hope that the person that stole my stuff didn't take the time to determine which mailbox it was and steal my mail too.
11- Reach out to one of the 3 – Trans Union, Experian or Equifax to have an alert put on your credit too. I reached out to Equifax 866-640-2273. If you're in Canada the number is 800-465-7166
12- Have your locks changed. In the Phoenix area I use Bill's Key and Lock Service. They're awesome. I've used them for years for my clients as well. 480-831-7959.
Some things we cannot control and trust me I have been beating myself up with "if only" but that didn't happen, so this is to help all those that have been burglar free and I hope you remain that way, but just in case. I hope that my misfortune can help just one of you.
Debbie Nieman