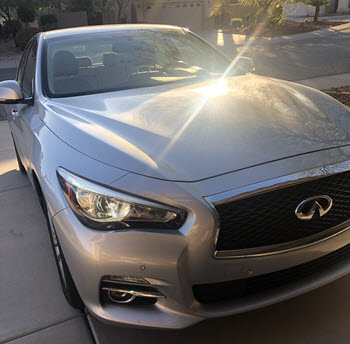 I've had a lot of feedback and questions from my blog I was robbed.
First, I need to share with you I have the utmost respect and admiration for our police officers. Our Police are over worked and have too much on their plates. The fact that my vehicle was recovered and no finger prints were taken (there was no evidence of it in my vehicle) and the officer who took my report was given specific details of where my stolen credit cards were used, the time and exact location that morning and yet nothing was done. Our laws (which in my opinion need some over hauling) you as the victim are more treated like the bad guy than the bad guy. To go over to the local Fry's or Circle K or Home Depot they need a court order and subpoena to view the tapes of the individuals that stole my vehicle. As of this date, three weeks later that has not been done.
My vehicle was found a week later on the southwest side of town and it took the City of Phoenix Police department an additional week before they notified me. I was told it was found by DPS and then towed to Avondale and then the insurance company had it towed to CO Parts at Lower Buckeye and 51st Avenue. I was asked by my insurance claims adjustor to go over and get my personal belongings (almost everything was gone) and for me to take photos. I asked my insurance adjustor to have the vehicle towed to a local Infiniti dealership to have the body and under the hood checked out. (Be aware no one works as quickly as you'd like and patience is something you will need to obtain along with alcohol!)
Maybe I'm naïve but I expected because I paid my insurance that minus the deductible, I would be reimbursed for those items stolen from my garage and my vehicle. That was not the case. Check your insurance policy mine states that there is a maximum amount for your cash including, cash, gift cards, merchandise credits etc. mine as a maximum of $ 200.00. Forget the fact I had much more than that in my vehicle for my clients that was stolen but not reimbursed. For your items they also depreciate depending on how long you've had them forget the fact you need to replenish them that's on you because what you may have paid for something 6 months ago and now the cost is higher. They will not pay you for current cost but what you paid less depreciation.
I had to use my vehicle insurance and home owners insurance because two separate claims. As an fyi in my state of Arizona if you have two claims for the same situation with the same insurance company you are given the higher of the deductible but not charged both deductibles.
The local post office was probable the least compassionate and none caring of all the trades I dealt with. Currently it is taking 2-3 weeks to have your mailbox locks re-keyed and they can not tell you where in the process that time frame is nor will they allow you to reach out to the 3rd party company the local post office hires. You just have to be patient and wait. If your purse is stolen and you need to get a new drivers license be sure and make a copy of the temporary one that you are given on line (but again the post office may or may not accept that) depending on who's at the counter. After three weeks and 2 days the lock was changed. Note to self you'd think the post office knows the policy to re-instate your mail because that's what they do, not necessarily. When re-instating your mail, you need to ask for another form to fill out to begin mail service again even though after three weeks of going there and seeing the same 3 people someone would say something? One would think correct?
On a positive note, Coulter Infiniti of Mesa was amazing! Rick Reames one of the sales people held the vehicle I wanted to purchase because I didn't feel safe in my vehicle that was stolen for over 3 weeks. Yes, I put a deposit down and yes that's not normal but he worked with me and in the end, got the vehicle I wanted it just got me more money. They made the process seamless, professional and a positive situation.
Note to self: Please don't get comfortable in your surroundings regardless of where you live. Small towns or big cities, the crooks are everywhere and you need to be smart about it.
I hope you never have to experience what I did but if you do, I do hope these two blogs will help you circumvent some of the crap I went through with this.
Debbie