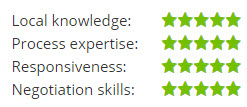 I met Debbie at an open house in 2008. She kept an eye on the market until 2012 when we listed. The house sold within a few weeks and we had multiple offer due to her network and marketing.
I appreciate her updates over a 4-year period and letting my wife and I decide when the time was right to sell. We sold our home for the price Debbie said she expected we would get. Cash buyers and an easy close topped off her excellent service.
Thank you Debbie Nieman!